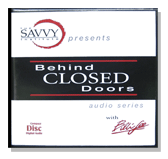 "Behind Closed Doors with Billi Lee" audio series and workbook!
The audio track from the acclaimed video series "Behind Closed Doors with Billi Lee" has 5 sessions that reveal the insights, secrets and strategies savvy players use to succeed when hard work and talent aren't enough!  125 minutes
Sessions:
• Introduction to Savvy: why savvy is essential no.
• The Bear Story: personal and impersonal system.
• What's Your Goal: staying focused, staying strategic
• Let's Barter: artful influencing
• Circles and Triangles: savvy team play 
Includes a link to download an accompanying workbook with highlights from the sessions and useful exercises.  
Audio (mp3) & Workbook download: $89.95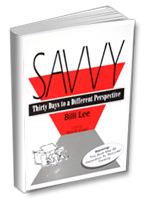 "Savvy, Thirty Days to a Different Perspective" by Billi Lee.
Thirty succinct and witty chapters in this small book will challenge your perspective on the game of work and how to play it. Buy more than one! Our customers complain they can't get the book back when they loan it to other people.